Με νέο υποκατάστημα στην Πάτρα η DHL Express Ελλάδας!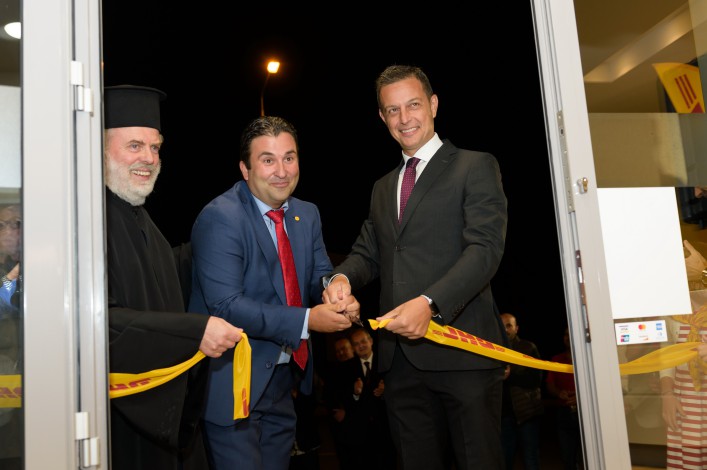 The official opening of its new store in Patras was held by DHL Express on Thursday, September 27th. The opening ceremony was held by the Chief Executive Officer of DHL Express Greece, Cyprus and Malta, Mr. Eleftherios Samaras, with the Director of the Patras Station, Mr. Konstantinos Athanasos. The ceremony was attended by more than 100 guests, associates and customers of the company as well as local operators.
DHL Express has been continuously present in Patras since 1984. Now it has expanded to other locations in the Peloponnese, making it the only solution for the next day to connect with the global, unparalleled network of the Company that counts 220 countries and destinations!
This new start in the Achaean capital comes to a year's milestone for the company, since this year it has completed 40 years of continuous presence in Greece!
DHL Express is the company that launched the courier service in Greece for the first time in 1978. Within 5 years, it has expanded to every corner of the country and since then has remained at the top of international courier services with a market share of more than 57% rather than random . Leaders, innovative, faithful to quality.
On the occasion of the upgrading of our facilities in Patras, it is worth noting that the investments have never stopped. Indeed, the most recent investment plan, the largest in its history and the international courier industry in the country, exceeded 20 million euros. The continuous growth of the company finds its starting point in a well-trained staff who shares a common culture of excellent customer service.
Of course, DHL Express accepts responsibility towards society and the environment. It supports voluntary organizations with voluntary activities, while Deutsche Post DHL's global strategy, under the title GoGreen, includes actions aimed at reducing its energy footprint.
In 2018, DHL Express Greece was at the top of the best workplace companies, winning the first place in Best Workplaces.
* The new branch of DHL Express in Patras is located at 41, P. Kanellopoulos str., Tel. 2610623050